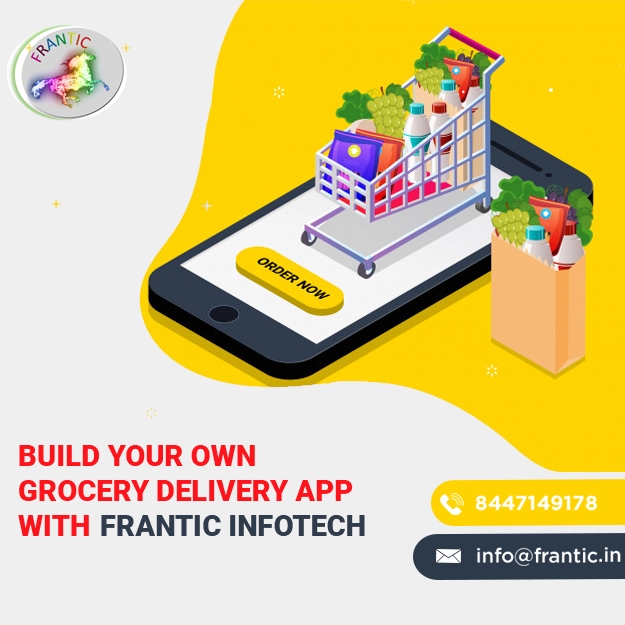 Why your store needs a Grocery Mobile App?
Grocery store apps developed by experts in the mobile app development field may help you understand this better.
In accordance with the current situation, Grocery delivery apps are in trend and of necessity. We at Frantic infotech cab provide you with a fully engaging grocery shopping app that will help you and your customers. 24*7 buying option and many more exciting features that will enable you to grow your business online, and will help your customers to shop essential items with all ease.
On-Demand Grocery Delivery Business Models we serve.
All-purpose Grocery apps are developed by experienced developers.
1. Single store:
This particular form of application brings all your grocery stores under a single management dashboard and hence tracks all stores and their deliveries.
2. Multiple stores:
This Grocery application enables you to register your business digitally, and hence convert your offline business into a brand.
3. Aggregators:

This app enables the listing of multiple stores onto a single app, managing deliveries, and building an Aggregated Marketplace.

Our Grocery App includes these features:

Frantic infotech creates high-quality mobile applications for your Grocery business to achieve new goals and success. App features are listed below:

Customers App:

1. Social media sign up and log in
2. Profile management
3. View nearby stores
4. Select items
5. Rating and reviews
6. Push notification
7. Real-time tracking
8. Secure app payment
9. Help and support
10. 24*7 customer service

Drivers App:

1. Driver profile set up
2. Available status
3. Location tracking
4. Real-time navigation
5. History and earnings
So don't wait for another moment, get an on-demand grocery delivery app developed by us.

Call us: 8447149178
Email: info@frantic.in