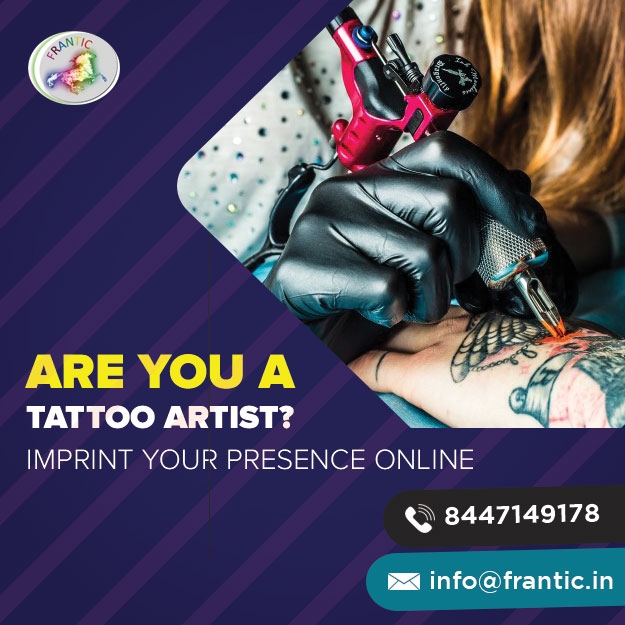 Tattoo Artists, its your time to shine and grow your business through a mobile Application. Know How?
A tattoo artist is one who creates permanent or semi-permanent images or words on the skin.
What Does a do Tattoo Artist
A tattoo artist is a person that creates permanent images or symbols based on the client's request.
A Tattoo Artist's day-to-day activities
Cleaning and sanitizing equipment.

Cleaning and sanitizing the work area.

Sketching new design.

Meeting new clients.

Booking appointments.

Inking clients.

Educating the clients about their aftercare.
Workplace of a professional tattoo artist
Tattoo artists start their studios after gaining experience, but most of the tattoo artists start working in an existing and professional tattoo studio which have all the required tools and goodwill.
Why do tattoo artists need a mobile application?
Today the world is going online, many applications are being developed. Applications like OLA and UBER gave a new platform for the taxi drivers where they can earn more and the customers can directly contact them and take the service, similarly, applications like amazon gave a new platform for the sellers where their product can reach millions of people at the same time. Many other applications have changed that particular market and helped in their growth.
Similarly, a mobile application for the tattoo industry can help it boom and will help in its growth. Applications like this will help the tattoo artists in creating their goodwill and also in creating a good platform where they will be reorganized through their work.
Advantages of a mobile application for the tattoo industry:
Will help the interested customers in having an idea about the nearest and the best tattoo artist available.

It Will help in creating a platform for tattoo artists to get names and fame.

Will be more cost-efficient for the customers as they can choose the artists according to their budget.

Will encourage young entrepreneurs.

Help in creating a more competitive environment that will encourage the artists to expand their skills.

Such applications will help in profit generations and the growth of the tattoo industry.

It will help in employment generation.

It Will help in saving the time of both customers and the artists, As it will help them to fix a particular period which will help in avoiding confusion.

It Will help in increasing productivity and reducing the cost.

It will help the artist to launch their brand and unique designs.
Factors affecting the cost of the application
Design:

The cost of the application is affected by the design and the format of the app. The applications with multiple features incur more costs as compared to the applications with basic features.

Launching platform:

The applications for the Android platform are usually 20-30% are expensive in comparison to the IOS platform.
Animation:

The animation used in the application affects the cost. At the same point, it makes the application more attractive.


So what is the delay? Contact Frantic Infotech and take your tattoo business to another level.

Call us: 8447149178
Email at: info@frantic.in