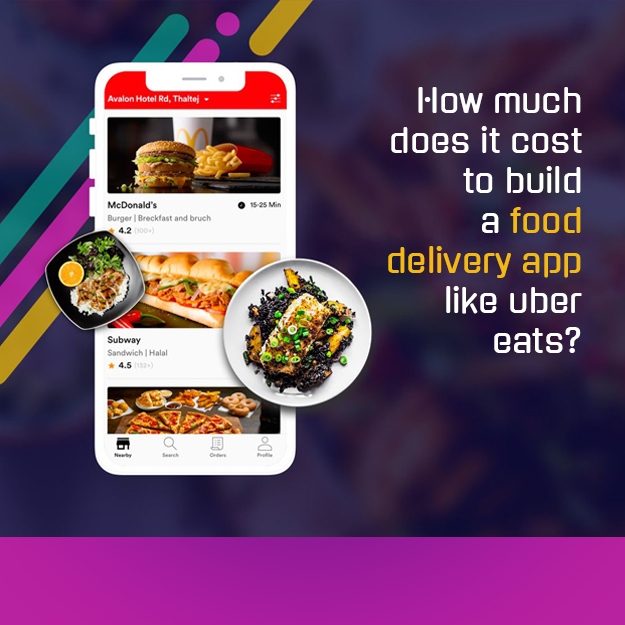 How much does it cost to develop a food delivery app like uber eats, Zomato ?
Food delivering applications like Zomato, swiggy, uber eats are making life hassle-free for customers to demand good food at reasonable prices in India as well as in other countries. Food delivery apps are the most demanding application in the current scenario of digitalization. People can order anything from the comfort of homes/offices and can get immediate doorstep delivery service. According to some sources, the Indian online food market is to hit the $8 billion market by 2022- growing at a CAGR of 25-30 percent, which is almost 4 times the revenue of the online food market in 2017. This shows how rapidly the Indian online food market is changing with the broad options for the restaurant owner, delivering services, and for others.
Major Food delivery applications in India and their revenue
.
Uber eats - uber eats is the US-based online food ordering and delivery platform, founded in 2014 by parent company UBER as uber-fresh and renamed UberEATS in 2015. UberEATS provides its services across 40 countries with a revenue of 2.51 billion dollars.
Zomato – zomato is an Indian restaurant aggregator and food delivery start-up founded by Pankaj chadda and Deepinder goyal in 2008. As of 2019 sources, zomato proves services to 24 countries and more than 10000 cities with a revenue of about 200 million dollars. Zomato is leading online food ordering and delivering applications in India with 5000+ employees.
Swiggy – swiggy is the largest and high valued online ordering and delivering application in India founded in 2014 by Nandan Reddy and Sriharsha Majety. In 2015 swiggy started an attractive investment strategy with the help of Accel and SAIF Partners. Swiggy has a revenue of 160 million dollars.
There are many more food delivery applications in India that provide doorstep food delivery services, everyone has their own strategy and mode of working. While some application deals only in delivering services only and while some applications deals in both ordering and delivering services. Whereas some good restaurant developed their own mobile applications to deliver their services eg- Dominos, pizza hut, etc.
The revenue generated in 2020 from online ordering and delivery of food items was $9207 million estimated and it is expected to hike by 8% in 2021. The growth in popularity in food delivering app was made clear in a recent study which tells that most people uses a mobile app for good discounting offers and doorstep availability to avoid the hassle.
Cost estimation to build food delivering app
How much does it cost to develop a mobile application for food ordering and delivery? I think this is the first question that came to the owner's mind. As there is no certain estimate to develop an app because revenue depends upon the owner. As there are stage-wise pricing of developing an application like- Documentation, back end and front end development, UI designing, MVP testing, and many more process to go through. And each process costs different from the other. In India developer charges 25 to 50 dollars per hour while in other countries like the US cost is as high as 150 to 170 dollars per hour. Various organizations have distinctive valuing structures with regard to application advancement. A few organizations may offer their administrations at lower costs, however modest isn't in every case great, and you need to ensure they are introducing all the highlights you need in your application.
The normal expense for making such an application is around 6500 to 11,000 dollars. On the off chance that you wish to join progressed highlights into your iOS or Android application, at that point, the expense may ascend to 35,000 to 40,000 dollars.