How much Android App Development Cost in India
Android App Development Services - The Game Changer in a Business
The business world moves at a faster pace and this fast pace thing is the main cause behind making small firms realize that they need to be extraordinary. They have to be pretty extraordinary in order to run successful competitions against giants. Innovative ideas and excellent use of the web and especially mobile technology are some things that are going to distinguish small firms from big companies.
In this busy world, having an Android App is a must these days. Customer expectation has gone high and the competition is too stiff as the android app development cost in India is quite flexible now. All you need to do is to get your company's app developed by a reliable android app development company and make it available for download on the app stores. Within no time, your product will hit the top of the charts and people will have easy access to your services and products. Android App development services are important for the purpose of reaching out to more customers and improving sales by making them convenient and easy. It improves brand image as well as creates a loyal customer base who looks forward to interacting with the business even with their mobile devices.
Unlocking the Most Asked Question - What does the Android App Development Cost in India
Let's face it, we live in a digital world where apps are an integral part of our ecosystem, every sec there's a search under "android app development cost in India". Whether it is a simple game or a complex financial application, apps are forever evolving. But, have you ever wondered how much it costs to build an app? Will it be the same for every app that's being developed? What does the Android App Development Cost in India?
The biggest portion of the cost is related to development. The raw cost of an android app development service will span from 30% to as high as 80% depending on the various factors that go into the process. Let's look at the factors that are involved in developing an application for mobile phones and their roles.
Platform: This is the very first thing that comes to mind when you think of app development. Choosing a platform to develop an application is crucial since it determines your fall-back plan, timeline, and budget. The range of costs for developing an iOS app is typically between $30,000-$80,000. An Android app will cost approximately $5,000-$40,000. And there are additional platforms like React Native or Flutter that can be used to create mobile apps as well.
Chosen Type of App: Choosing the right type of app will decide the cost of your android app development project. While web apps are easy to create as they are developed using HTML, CSS, and JavaScript, native apps are quite expensive due to their high-end features and technology being used in the development of the app.
The expertise of the Team: It's crucial that you hire the right Android app development company in India to handle your project because it's not cheap. The company's Android App Development Cost in India is determined by a number of factors, like the years of expertise the team holds, the technological understanding, their success background, etc.
Features: What features you are willing to get implemented in your app plays a major role to close down the cost of your app. Features can make or break your product strategy and success. One feature that your competitor has can be the deciding factor for your user base to abandon one app for another.
Android App Development Company in India - A Pocket-Friendly Choice
An Android app development company established in India follows an iterative process, with multiple versions being created so that new features can be added and tested to the application, offering businesses the ability to see what their customers like the most (clubbed with a technical assessment of the feasibility of implementing said features). Basically, The average cost to develop an Android app can go somewhere between $20,000 – $300,000 and above, based on your project requirements. So, instead of fluttering around looking for android app development costs in India, you should start looking for an established Android App Development Company in India that could match the needs of your business.
Frantic Android App Development Company in Delhi - Where Your Growth Lies
Let's face it - the market is flooded with Android App Development Company in Delhi and Noida. The trick to staying ahead of your competition is to offer something that sets you apart from the rest and that too under budget from a reliable android app development company in Noida. We are an Android development company in Noida that has established yet another level of performance as far as development is concerned. Our team members have been developing applications for conventional platforms like iOS and Windows without giving our clients any sort of financial stress.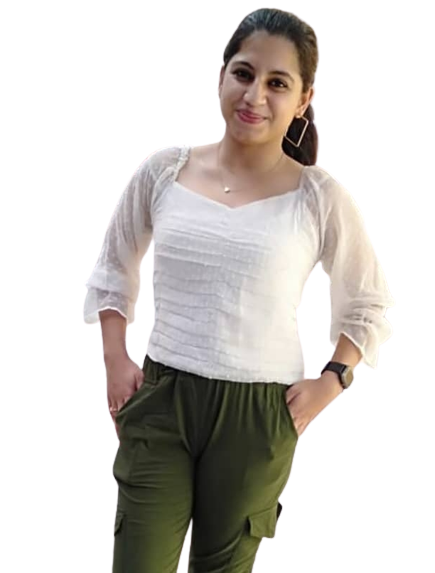 Author
Kashish khosla
Kashish Khosla is a highly skilled technical content writer with over 6 years of experience in the field. He holds a degree in Masters of Computer Science and has worked with a variety of technology companies, creating clear and concise content for both technical and non-technical audiences.