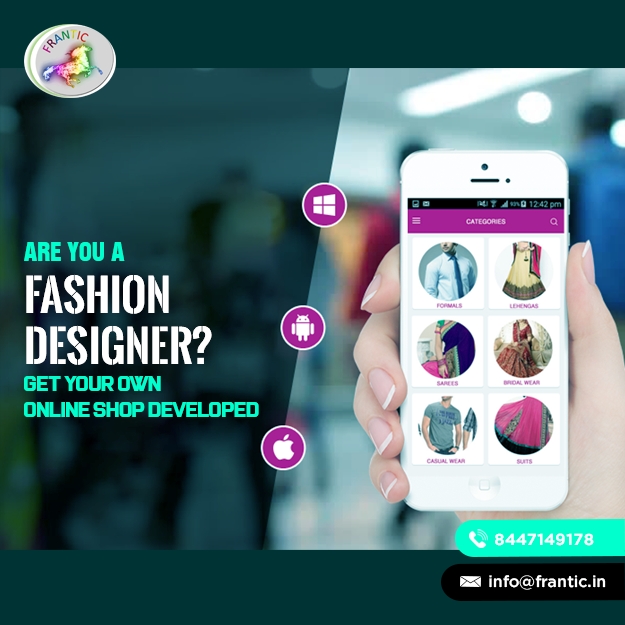 Fashion designing app
Fashion is a form of creative imagination and independence for a specific period and place and in specific conditions of clothing, footwear, lifestyle, accessories, makeup, hairstyle, and body posture. Fashion involves change, novelty, and the context of time, place, and wearer. Fashion designing is a skill of applying design, aesthetics, clothing construction, and natural beauty to clothing and accessories. It is affected by the culture and mainly by trends that vary by over a period of time. A designer creates items of clothing like dresses, gowns, pants, and skirts, and also accessories like shoes and bags for customers. The fashion world grows very quickly which makes it obvious that the designer needs to take steps in order to stand in the competitive growing world. Designing can also be done more effectively and efficiently with the help of online applications. As fashion is combined with technology and social media, it will be the best option for designers to opt for mobile apps to stay under the spotlight. These applications provide many frameworks and tools for designing clothing and other accessories.
Best inspirational fashion apps
The ultimate digital mood board and an extremely popular resource for fashionistas, Pinterest lets you collect or pin images from the web and save them for reference. In addition to creating your own boards filled with the types of outfits or looks that inspire you. You can search and browse other boards to explore different themes. With more than 602 million fashion boards and more than 21 billion fashion ideas, Pinterest is a necessary tool for finding new ideas and trends
Matboard is another mood board app that has been dubbed Pinterest for designers. Working in a homogenous way matboard is a social bookmarking center for creatives that permits you to organize, browse and locate encouraging work and also build mood boards for your own specified projects.
Fashion creativeness must go far away from fashion itself and art will be a deciding source of ideas for designers all the time. The Art Authority application provides its user the ability to browse 1,000,000+ paintings and 1,500 sculptures leading western artists from prehistoric times to the present day. This easy-to-access archive is an amazing visual library that should encourage all kinds of designers.
Vogue Runway provides you unlimited approach to the world's latest collection. Its archives make this app very special which offers 12000 fashion shows and over a million runway photos.
It keeps you up to date with the latest fashion which helps you to track looks. Post photos of the clothes you love and the community will help you to identify the designers and where you could buy them for yourself. The Hunt also helps you to remain in top trends, with news and interviews.
Ultimate fashion designing apps
A dominant software for graphic designers. Adobe Illustrators is admired by stylists as tools for drawing flats as well as freehand sketching, tracing patterns, and experimenting with color palettes.
Corel Draw is one of the most admired ways for vector-based designing and primary software for fashion students. It comprises bitmap-image editor Corel Photo-Paint and also other graphic-related programs. Corel Draw is for everything from sketching and pattern making to creating geometric mannequins.
It is one of the most powerful vector graphics editors competing with Illustrator. The sketch is instinctual software with a huge range of plugins and an ever-growing choice of extensions and add-ons.
With its simple and intuitive interface, the sketchbook is a great drawing application perfect for sketching concepts on your device. One can easily scan drawings on paper for digital editing using a device camera and can play with a huge diversified variety of tools.
A virtual sampling tool that permits you to create 3D designs, trying out different patterns and fabrics in such a way that you can openly imagine.
Features included in Fashion Designing App
Appealing User Interface
User Interface (UI) defines the interaction between the user and a product. Most user does not think about the software architecture and back-end processes while interacting with the app or website. Our company provides the best UI services which increase user interaction and also transmit the correct message to the end-user which will ultimately meet their needs and wants.
Product Reviews
Product reviews are feedbacks of consumers for a specific product. Frantic Infotech provides a review section on apps and websites so that consumers will get a clear and cut idea about the product before purchasing it as it is already used by the other consumers who have already consumed that product and they have shared their opinion about the product.
Universal Shopping Carts
The concept of a universal shopping cart is very simple as it allows consumers to browse products on a site like LYST or an app like keep. Add products from multiple merchants in one basket and can be checked in one go. This means that synchronizing with inventory systems of all retailers to ensure that the item in question is always available in the right size and color at all times, making easy and secure transactions. It's a tall order but the hope is that if the startup is successful then it will become the preferred destination for consumers. It ultimately reduces the risk of card abandonment as shoppers do not jump to the site to make their purchases.
Personal messaging platform
A personal messaging platform is a place where the consumer can directly connect with the supplier and it becomes beneficial to connect directly with the consumers and also makes consumers feel trust in the app.