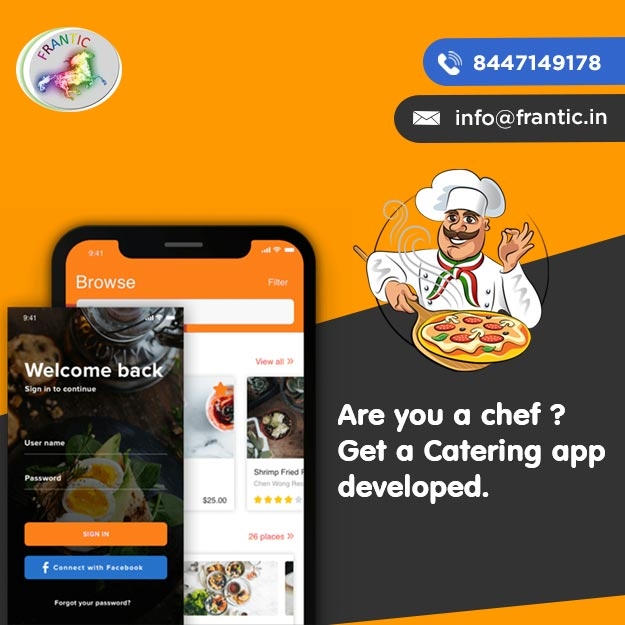 Are you a chef and thinking of starting your own business? Know how.
Coronavirus has taken over the world, people have been a slave of a series of lockdowns, many people have lost their jobs and hence starting your own business in this pandemic is the best decision anyone can make.
Chefs all over the world have specifically suffered a lot, as due to this lockdown as restaurant businesses have been shut down, and therefore resulting in long their jibs. For Getting an application developed and starting your own catering business, this is the right time.
How are mobile apps will help you in your catering business startup?
There are many features that are collaborated in the design and development of a catering app that will profit you and will help you grow your business, Business including:
Detailed information about all the catering services, catering menus, all the charges (inclusive and extra), and about offers, etc.
Contact information and location details are included
Socuial media integration.
Including frequent updating, advanced searches, and filters
Building customer loyalty and being user-oriented
Users will get to understand more about offered catering services by the various client reviews and comments that are displayed on the app.
It's high time to step into the development of the catering app.
It is proven that The catering business is not restricted to parties or events, but it can as well be extended towards businesses. Many of the IT organizations have an in-house kitchen which will add a new extension to catering apps. Such businesses make use of Android or iOS app development for organizing catering for their business parties. Features Including:
Push notifications

Delighting HD real-time images,

Including customer feedback,

The ability to handle huge requests
This will definitely allow the catering services app to boost outreach and become a strong contender in the catering business field. As parties, you all know that is incomplete without a cake, Contact the best company in the field of app development, is Frantic infotech. Follow up with your questions, and we will try our best to conciliate your curiosity.
Get a catering app developed today.
Call us: 8447149178
Email at: info@frantic.in