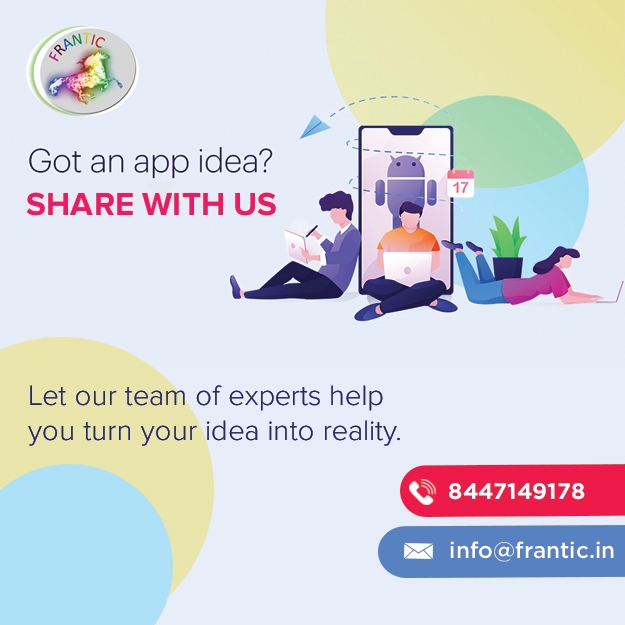 Are different app and business ideas brimming in your mind, and you just want them to be painted as a picture in reality?
If yes, then Frantic Infotech is like a "genie" to you, your imagination will come true. We as a top and leading mobile app development company in India are capable of implementing all sorts of ideas into amazing applications, that can run on various platforms (Android, IOS, Windows) with the help and support from our skilled team. Converting your ideas to reality by focusing on all the important aspects in building successful applications and enhancing your business growth is our priority. In the mobile app development industry, nothing is impossible, as we work on facts-driven from technology hence upgrading the ideas provided by our clients. Share your App idea with us, and wait for the miracle.
Different types of applications can be developed by us, according to your budget and innovative ideas:
Android Applications: Android application is software created to run on android devices or emulators. APK stands for Android Package. It is a Zip archive file that contains app code, resources, and meta information. These android applications can be written in Kotlin, Java, C++ and are run inside Virtual Machine. The authority advancement environment is Android Studio. The development cost of android applications is comparatively less than others. These applications are budget-friendly and best for new businesses. These applications are roughly 75% of shares in the worldwide market by the end of 2020.
IOS Applications: iOS applications are those mobile applications that run on iPhones, Apple Hardware, iPad and iPod Touch, and other Apple devices. iOS are a mobile operating system created and developed by Apple Inc. This application's code is written in Swift programming language or Objective-C and then launched on Apple stores for the users to download. It is the second most widely used operating system after Android. IOS applications can also be installed directly from an IPA file given by the software distributor, or through unofficial ways.
Hybrid Applications: These applications are web applications, for the native browser. Such applications are developed by using multiple coding languages like JavaScript, CSS, and HTML. These applications consist of the pros and cons of both native and web applications. Hybrid applications are very fast and easy to develop. There is a single base code for applications on all or different platforms which ensures low-cost maintenance and smooth updates. It includes extensively used APIs like gyroscope, accelerometer, and geolocation. The only difference between hybrid applications and other applications is that hybrid applications consist of components of native applications.
Hybrid applications can likewise depend on stages that offer JavaScript APIs if those functionalities are called within a WebView. But on the other hand hybrid applications lacks execution, speed, and general optimization in comparison to other native apps.
Cross-Platform Applications: A cross-platform application is an application that works on multiple types of platforms or operating environments. Distinct cross platforms consist of both hardware and software systems and also broader systems that are created to work in the same way over multiple platforms. These applications can run on both Android and iOS devices and are built by using a single code. These applications have proved to be the best choice for business owners as it's the new trend.
Choose Frantic Infotech for your mobile application development, and bring your ideas to reality in the best way possible. Our team is your team. We work hard for your benefit, with a seal of trust. We are potentially the best in the mobile app development industry. Join hands with us for Amazing UI/UX designed applications based purely on your ideas.