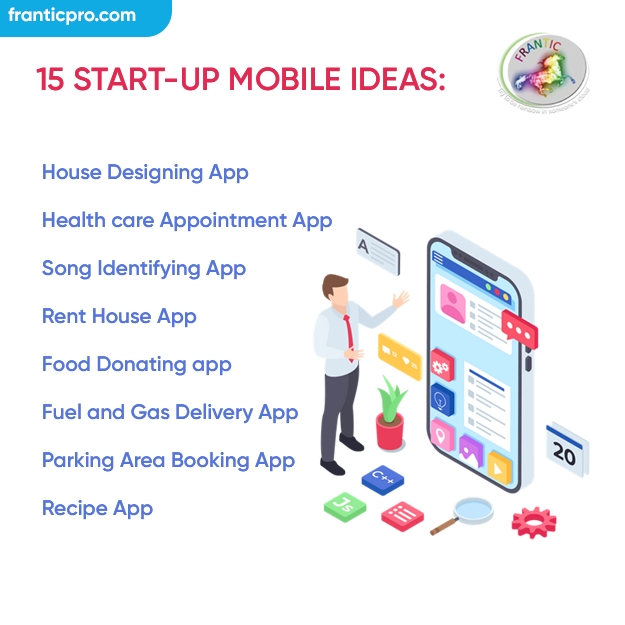 15 Start-Up Mobile App Ideas
In the world of innovation where everything is currently becoming digital and sold over online business sites, the start-up culture of the nation has likewise revolved.
Presently every start-up and beginner intends to dispatch their mobile-based application first. Mobile apps have made the job easier by just clicking, we can shop online, online education, book tickets, health appointments, and many more.
In the pool of apps, it is important to stand out, meet needs, and provide varied features in order to attain success.
Here are some mobile app ideas for start-ups.
Parking Area Booking App: People buying cars for comfort, is increasing the shortage of parking spots, especially in metro cities. In this case, it would be easy if you get an app for booking a parking slot in advance nearby, saving time.
Drivers could find real-time insights on available spots situated nearby, reserving a spot via app a few days ago can ease when in rush. The app can provide availability on the parking area of a location, explain the view of the parking space, and also excludes the need for a human to manage the parking area. Make sure there are parking places added for every type of vehicle with proper price range varying for the type of vehicle.
On-Demand Fuel and Gas Delivery App: For the situations when your fuel runs out before reaching the fuel station, this situation can be quite pestering. Fuel and gas apps can be a boon to this situation, to order fuel at the location or to connect with nearby fuel stations. The on-demand fuel supply app satisfies the emergency of the fuel. In the middle of your lane when there is no access to fuel, or in situations of rush, you can deliver fuel 24/7 on demand.
Mobile apps are active in maintaining a greater user base in every sector and also sell at a lower cost than sellers of services, which might work for fuel apps to grow and be more efficient and increase sales with acquiring mobile app strategy.
Health Care Appointment Apps: Such apps are helpful in connecting doctors and patients, or the person who is seeing some symptoms of disease or is not able to consult a doctor personally. They can book the appointment via application, according to their budget and disease select the doctor. Patients can send their prior reports and medicine details, and doctors can share prescriptions and invoices with the patients, also the easy payment system is also available. Health care apps can be a blessing for remote areas, in rural areas where it is difficult to find doctors nearby, this app can be a boon for those people.
Utility Mobile Apps: Utility apps make the users routine, easy, smooth, and fast. Clients need speedy and simple access to the essentials, including utility contact data, payment and billing choices, and estimating choices. Rather than a massive and difficult-to-follow site, they lean toward a mobile application that is helpful and simple to utilize. Clients need the adaptability to get to their record and make changes from practically any place.
House Designing Apps: When you want your dream house to look like what you thought in your dreams and want to design it so that it can be revealed in fully designed. House designing apps let you decide for your home where to place items and which place is suitable for your requirements. These apps are helpful in deciding the color, selecting furniture, or décor measuring and arranging.
Donating Apps: We help needy people which are around us and at our reach. There have been many donation apps that help us to collect funds for the people in need in different countries. People run donation campaigns for patients as well who are in need. This mobile application made it easier to help the needy and provide them financial health within a short span of time. The app helps donors to donate from anywhere in the world.
Book Exchanging Apps: Book lovers got a new friend like them with the help of these apps. Book readers after reading books keep the books with them giving them no advantage, which is immersed as an idea of a book exchanging app that allows book readers to exchange their books with fellow book readers. This exchange takes place by scanning the ISBN code in the book to be sold, then the app shows nearby books to be exchanged.
Song Identifying App: These Apps identify songs quickly which run in your mind and you are not able to remember, identify now by just adding tone or words. Most of the time enjoying parties you want your that song that you decided to play at the next party is stuck in your mind and becomes an emergency situation. This app helps you to remember the music and not spoil your party mood.
Rent House App: These applications are facilitating clients to track down rented as well as discounted properties. These are ideal arrangements as it prompts improved productivity, better correspondence, and higher engagement. These apps help in finding suitable homes within your budget simplifies your paperwork and can pay rent through the app. It's easier to decide with so many options which to choose according to location and budget by sitting in one place.
Food Donating App: Helps in donating leftover food from restaurants and homes, this app can connect restaurants and charitable organizations to feed the needy by donating extra food. There will be no food wastage and the needy will be served. Restaurant's food wastage is obvious which can be solved by this creating a food donating app.
Disaster Management App: Natural disasters are something we don't have control over, but we can be prepared for them prior its arrival. Disaster management apps help us prepare or lower down the destruction to occur by alerting us about the disaster. Also assists people stuck in disastrous areas or if the alert is made to any area. Individuals need to send the details and location; the operators will receive the requests and then will send nearby rescuers to the location.
Recipe App: During the corona wave, there came a wave of cooking as well, people were indulging in cooking activities at their home, and trying new dishes. In Recipe app users save the recipe they like and play mobile-friendly videos. This app shows preparation time, main ingredients, and ideas to serve the food.

Online Classes App: Pandemic has increased the phase of online learning as well, and people are finding it convenient to go for online studies. Online coaching apps can be the best idea to take education from distant and from home with suitable certification. Online exams are conducted to check the progress and learning and result is declared as well.
Symptoms Tracking App: This app is helpful in diagnosing symptoms, regardless of whether it is a migraine, cold, dizziness, hack, or some other sickness, you may be determined to have a big-time illness. There ought to be an application that allows you to follow the symptoms. It can request that the client enter the side effects and add subtleties like internal heat level, pulse, and pulses.
Such an application could be extraordinary in assisting individuals with diagnosing the issue at home before it gets past the point of no return. This can likewise assist with limiting the harm caused and even save lives if there should arise an occurrence of issues that need moment treatment.
In later stages, the application can even have the component to add specialists who can likewise interface with the clients if they wish to counsel. It can permit ongoing associations among specialists and clients to track down an answer and get medicine for less intense diseases.
Auto-Pilot App: Social media Autopilot, is only an associate, which assists you with taking out the undesirable social substance from every one of your online media handles and assists you with recognizing simply the best 90% of the moving substance which is helpful for you. Social media platforms are loaded up with Junk documents and undesirable texts yet a large number of them we run over are the rehashed and the exhausting ones, so this autopilot assists you with rejecting the undesirable rehashed stuff.